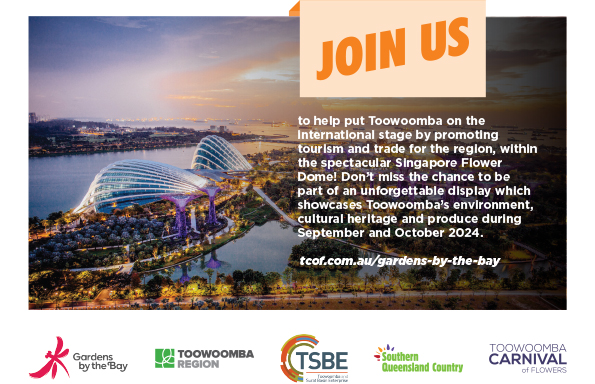 Join us in celebrating the union of Toowoomba's natural wonders with Singapore's iconic Gardens by the Bay.
Take part in this momentous occasion and seize the following opportunities:
Sponsorship: Become a supporter of this significant international activation, align your brand with this floral extravaganza, and gain exposure to a diverse audience.
Providing Partners: Showcase your expertise and contribute to the success of the event by providing plants, freight services, flights, produce, talent, or art.
Travel Agents, Wholesalers, and Operators: Forge valuable consumer and trade connections, create unique itineraries, and explore group travel possibilities between Singapore and Toowoomba.
Exporters: Showcase high-quality Queensland products to Singaporean buyers, opening up new opportunities for trade and collaboration.
Media: Be part of promoting the display and organizing familiarization trips to showcase travel products and export produce opportunities.
This initiative is made possible through the collaboration of Gardens by the Bay, Toowoomba Regional Council, Toowoomba and Surat Basin Enterprise (TSBE), Southern Queensland Country Tourism (SQCT), and Toowoomba Carnival of Flowers (TCOF).
(logos place holder)
Join us as we transport you to Toowoomba's garden city within the spectacular Flower Dome. Don't miss this chance to be part of an unforgettable experience that celebrates the beauty and cultural heritage of Toowoomba, Queensland, at Gardens by the Bay.
The display will feature the below elements:
Toowoomba Carnival of Flowers 75th Anniversary:
In 2024, we commemorate the 75th anniversary of the Toowoomba Carnival of Flowers, a beloved event renowned for its vibrant blooms and festive atmosphere. Walk through our flower-filled tribute to this iconic celebration and relish in the sights and scents that have captivated visitors for decades. Join us in honouring this milestone and be part of the legacy.
Natural Environment of Toowoomba Region:
Discover the rich biodiversity of the Toowoomba region through a breathtaking showcase of native plants. Explore the unique flora that thrives in this picturesque landscape, from vibrant wildflowers to resilient bushland species. Gain a deeper understanding of the region's ecological heritage and appreciate the beauty of Australia's native flora.
Produce from Local Farms:
Indulge your senses with the freshest flavours of Toowoomba's bountiful region. See an array of delectable produce sourced directly from local farms known for their rich, fertile soils. From farm-fresh fruits and vegetables to artisanal products and gourmet treats, experience the true essence of Queensland's premier food-growing region right here in Singapore. Dedicated events will provide moments to taste test the region during the display timing.
Local Indigenous Art:
Experience the cultural richness and storytelling of Toowoomba's First Nation Indigenous community through mesmerizing art installations. Witness the blending of traditional and contemporary artistic expressions, as local artists showcase their talent and pay homage to their heritage. Immerse yourself in the vibrant colours, intricate patterns, and meaningful narratives woven into each artwork.
Join us for an extraordinary floral experience at Gardens by the Bay, Singapore, as we proudly present a celebration of nature, culture, and the bountiful region of Toowoomba, Queensland.
Keen to be involved - please fill in our contact form below to email the team!